Medical Subscriptions purchased on Lecturio.com
You can deactivate the automatic renewal option by no later than 5 days prior renewal date by logging in and accessing your personal account area:
1) Go to your Account Settings
2) Click on the tab "Subscription & Bills"
3) Click on the green button "Change your Plan"
4) Click on the grey button "Deactivate Automatic Renewal" below the subscription:
5) Now you can let us know why you are leaving us. Choose a reason and click on continue: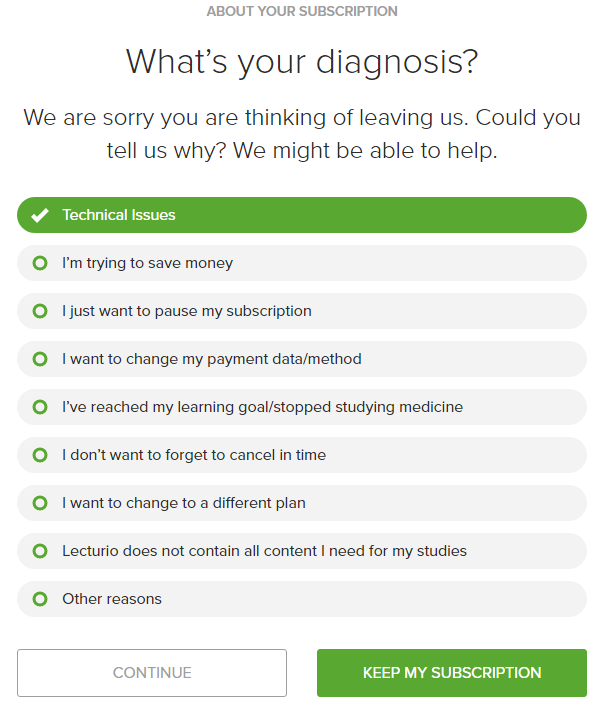 6) Now, please confirm that you don't want your subscription to renew again:
Medical Subscription purchased via App-Purchase: 
If you purchased our medical subscription from within our medicine app, you paid directly via iTunes or Google Play. You'll have to deactivate the renewals directly from within iTunes/the Play Store. Click here for further information on how to proceed with iTunes and here for further information on how to proceed with the Play Store. 
Courses on Lecturio.de
You can easily deactivate the automatic renewal option by logging in and opening your personal account area. Now navigate to "Account Settings". Then click on "My Payments" and you will see a list of all your subscriptions.
Next to the courses you will find three dots:

If you click on it, you can choose "renewal options". Here you can see the details of your subscription, indicating if the automatic renewal is activated or not. Just click "deactivate" and confirm once again in the following pop-up window.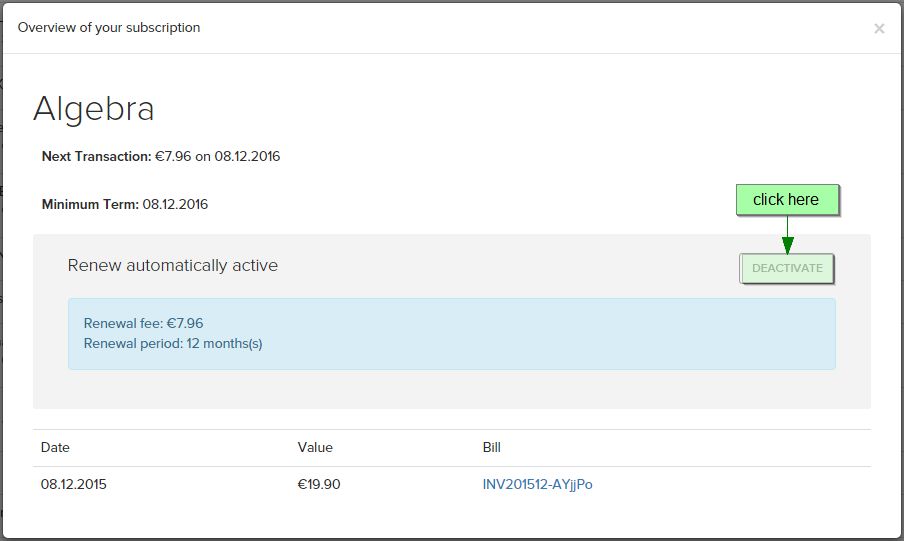 Please note that cancellation must be executed at least 10 days before the next billing date. Otherwise, the cancellation will apply to the next renewal period.
If there is a button called "Renew now" instead of "Renewal options", the automatic renewal option is not available for this course, so there's no need for deactivation.